PETIT LE MANS: Season-finale of the 2016 IMSA WeatherTech SportsCar Championship
 
TRACK: Road Atlanta is a 2.54-mile road course with 12 turns located in Braselton, Georgia about an hour outside of Atlanta.
 
PETIT LE MANS DRIVERS: John Pew, Ozz Negri, Olivier Pla
 
RETRO LIVERY: Recognizing the team's past while also looking forward to its future, Michael Shank Racing is throwing it back. Fans of Michael Shank Racing will see a new, 
yet familiar, red, white and blue look for the team's No. 60 Honda-Ligier Prototype.

The season-ending 2016 Petit Le Mans at Road Atlanta on October 1st will mark Michael Shank Racing's 250th prototype start in the IMSA ranks. To celebrate the feat, team partner AERO™ Advanced Paint Technology produced a throwback livery for the car that echoes the first-ever car Michael Shank Racing entered back in 2004.
 
SIGN THE CAR: Fans are invited to the Michael Shank Racing transporter Friday at5:30 PM to sign the nose of the No. 60 Honda-Ligier JS P2. The team would like to thank everyone who has supported Michael Shank Racing through the years and will carry the names of its fans onboard during the Petit Le Mans event.
 
THE RETURN OF PLA: French sports car ace Olivier Pla will return to Michael Shank Racing for the 10-hour Petit endurance race. Pla also joined the team in the Rolex 24 at Daytona, 12 Hours of Sebring, and the Sahlen's 6 Hours of the Glen.

Pla drives full time in the World Endurance Championship in a Ford GT and also competes for Krohn Racing in an LMP2 in the European Le Mans Series. Last weekend he was in action at the 4 Hours of Spa with co-drivers Tracy Krohn and Nic Jonsson.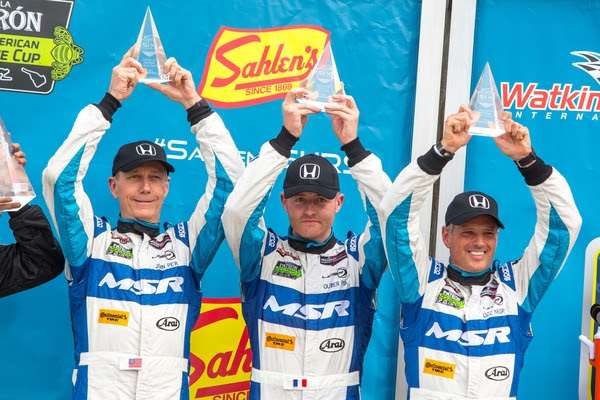 Pla has three starts in the Petit Le Mans with a best finish of fourth.

The trio of Pew, Negri and Pla most recently competed together in this year's Sahlen's 6 Hours of the Glen in which the group scored a podium finish of third.

PEW TURNS THE PAGE: Competing for Michael Shank Racing since 2007, John Pew is set to take a sabbatical following the 2016 Petit Le Mans event. He will take a break from North American endurance racing while he evaluates potential future racing endeavors.

STARTS: 113 (84 GRAND-AM, 29 WeatherTech)

WINS: 3
Miller 2008
Rolex 24 2012
Laguna 2016

Winner of the Trueman Award 3 times:
2010 – Rolex Series
2011 – Rolex Series
2015 – WeatherTech Championship

PODIUMS – 19 total (13 GRAND-AM, 6 WeatherTech)
Barber 2008 – 3rd // Miller 2008 – 1st // VIR 2009 – 2nd // Barber 2009 – 3rd // Barber 2010 – 2nd // Mid-Ohio 2010 – 2nd // Daytona Sprint 2010 – 3rd // Lime Rock 2011 – 2nd // Rolex 24 2012 – 1st // New Jersey 2012 – 3rd // Road America 2012 – 3rd // Rolex 24 2013 – 3rd // Kansas 2013 – 3rd // Road America 2014 – 2nd // Laguna 2015 – 3rd // Detroit 2015 – 2nd // Mosport 2015 – 3rd // Laguna 2016 – 1st // Glen 6 Hour – 3rd

WHAT DOWN TIME? In between the COTA and Petit events, Ozz Negri took part in the Escape to Miami Triathlon with a time of 2:46.08 in the Olympic distance event. Negri utilizes triathlons as part of his training regimen for his racing career and participates in numerous events throughout the year. The Escape to Miami his is favorite Triathlon event – he's competed in it five times.

THE REARVIEW – A LOOK BACK AT ROAD ATLANTA: The final result of last year's Petit Le Mans did not reflect the effort of the team over what was a very trying event that 
saw an extraordinary amount of rain at the track, but an even bigger amount of work that came from the Michael Shank Racing squad with the never give up mantra. With massive amounts of rain throughout the weekend, a crash in the Thursday night practice forced an entire rebuild of the Michael Shank Racing car. With help from Atlanta-based Elan Motorsports as well as members of the DeltaWing team, the car was repaired in time for the race. Another crash in the rain-shortened event saw the team's day end even earlier, but not for lack of effort. This year's weather forecast has a much different and brighter outlook, and the team is looking forward to a better showing.

Road Atlanta 2013: John Pew, Michael Valiante – Started 9th Finished 7th
Road Atlanta 2013: Gustavo Yacaman, Antonio Pizzonia – Started 10th Finished 4th
Petit 2014: John Pew, Ozz Negri – Started 6th Finished 6th
Petit 2015: John Pew, Ozz Negri, Matt McMurry – Started 13th Finished 9th
 
DRIVER QUOTES:
 
John Pew: "Lot of memories with this team from the very beginning, with Ozz (Negri) and Ian James and Mark Patterson. Big DP fields, two-car team, it was a lot of fun. As the series changed over time, we kind of changed with it. It's all been really good. I've really grown to love these guys at Michael Shank Racing. They're great guys and when the going gets tough, they just work hard with a smile on their faces. It was a real honor to go with them and take them along to Le Mans. We've had some fantastic times including when we won the Rolex 24 with AJ (Allmendinger), Justin (Wilson), and Ozz (Negri). I drove with some great guys and met some great people.
 
"I'm pretty confident heading into Petit and cautiously optimistic. Last year with all the rain it really changed things up, but normally Road Atlanta is a good track for us. Olivier (Pla) fits right in with us, fits like a glove. I'm looking forward to it."
 
Ozz Negri: "John's (Pew) the best teammate one can have. John has done great for himself, for me, and the team. We'll miss him a lot. All the things that we normally do together on the race weekend, I know what he wants and he knows what I want. It'll be very different. He went from a novice to the level of a pro driver. Last year, he out qualified Christian (Fittipaldi) at Laguna. It will be sad, but we move on and I hope he doesn't quit racing all together, because he loves it, I know he does. We're looking forward to Petit. The weather is looking better than last year so that's already a step in the right direction."
 
Olivier Pla: "It's good to be back with Michael Shank Racing. I always enjoy coming back to the WeatherTech SportsCar Championship with this team in the Honda-Ligier. We've had some good times together this year including our podium at Watkins Glen. Everyone on the team is very welcoming and it's always good to be back in the car with Ozz (Negri) and John (Pew). I enjoy racing at Road Atlanta. It's a track that I like and it should suit the Ligier pretty well."
 
MIKE SHANK, TEAM OWNER SHARES THOUGHTS ON PETIT: "I think we'll be pretty good at Petit, which will also be our 250th start. Looking back on our time in prototypes, it's hard to even begin. We finished fourth in our very first race – the Rolex 24 – and in the next race Ozz joined us and we were on the podium. We had a few podiums that year with that car and that's what kind of all kicked things off for us. We'll have the car out for the fans to sign the nose on Friday night like we did last year. I think we'll be pretty competitive. It'll be great to have Olivier (Pla) back with us again. We're looking forward to it."
 
TELEVISION BROADCAST INFORMATION: 
11:00 AM – 9:30 PM ET FOX Sports GO app with FS1 authentication
11:00 AM – 12:00 PM ET FS1
2:30 PM – 6:00 PM ET FS2 
 
SOCIAL MEDIA: Follow Michael Shank Racing on Twitter (@MichaelShankRac) and Instagram (michaelshankracing) for updates throughout the event!